Their Story
Developed in 1991, Sinda Youth Club's goal is to improve the socio-economic status of Singapore's Indian community by inspiring the youths to work towards greater achievements. Sinda provides the youths with motivational programmes and mentorships to grow into confident and capable adults.
Challenge
Sinda noticed the current brand aesthetics failed to engage the youths — their target audience. In addition, there was an ineffective sharing of its mission statement due to the presence of a mismatched website theme.
Solutions
To effectively engage and share their beliefs through the use of visual expression, we recommended the use of a customised page that focused on a strong use of visual language. Regarding the layout, a modern touch was given with inspiration derived from the layout of a magazine; communicating the needed information with the help of relevant graphics.
The user experience was a critical factor when developing the new website. There were multiple content and programs that needed to be highlighted, thus a scalable design was crucial. We had to ensure the new sitemap and its wireframes were able to catch the user's attention and prompt them to explore the rest of the site. Keeping the user experience in mind, the sitemap and wireframe were purposefully designed to be at the intersection of being creative and easily usable.
Results
As noted from the youths, after the improvement has been made, the website made a 180 degrees turn — impressing the majority of them.
Experience design
The site information architecture was crucial in developing the user experience. With multiple content and programs that we needed to highlight, we focused on a design that was scalable. We design the site map and wireframes to intrigue the audience as soon as possible and prompt users to explore the site easily.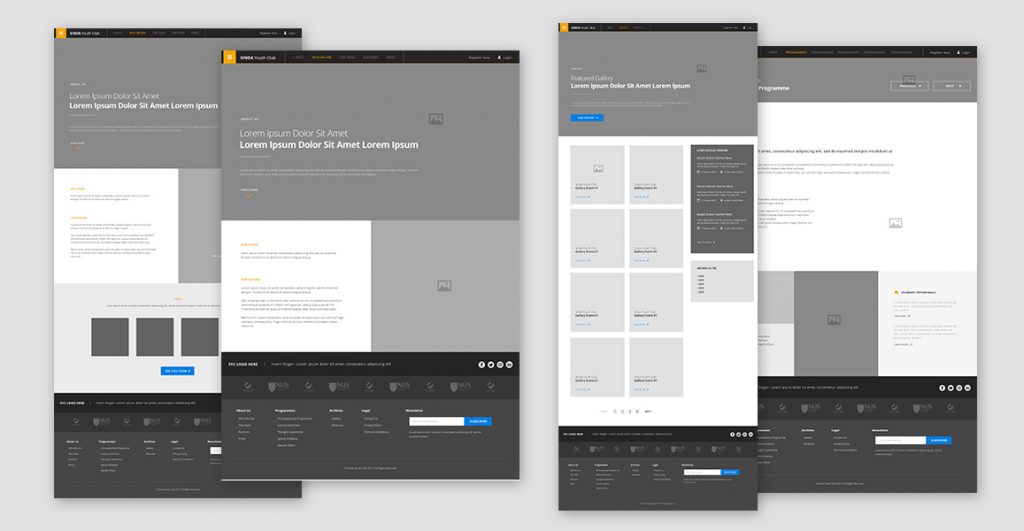 New look and feel
Applying the new brand look and feel to the oragainzation site expressed SINDA Youth Club in a more professional and serious organization. It helped to hold interesting content that could engage with audience and connect with them.